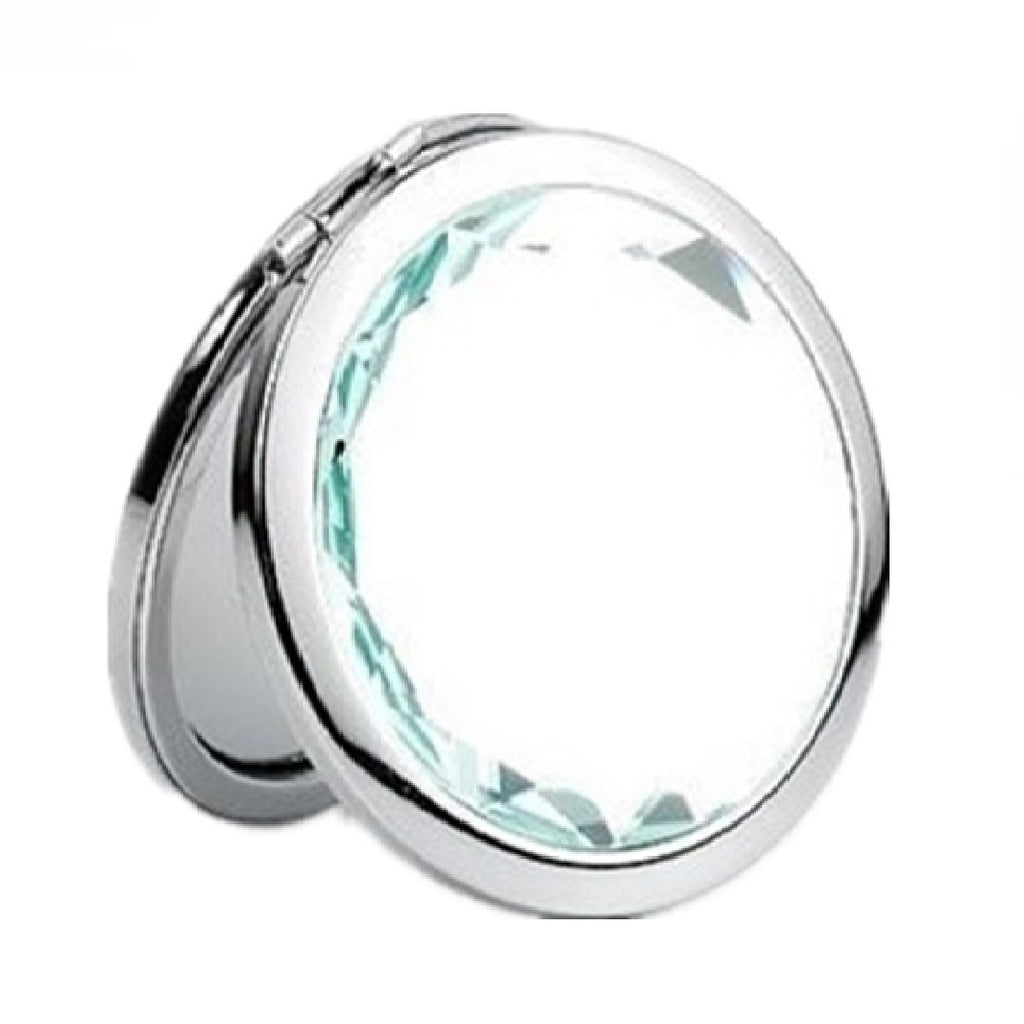 2x/1x Jeweled Compact Mirrors - Chrome
Storus® Promotions Jeweled Compact Mirror is double-sided with 2x/1x magnification. It has a beautiful jewel on the top that can be laser engraved. It has a button open. It is made out of stainless steel with a chrome finish that can be engraved on the back. It is compact and fits in a pocket, purse, back pack, briefcase, travel bag. It great for travel and makes a special gift. A company name or logo can be lasered into the crystal or it can be engraved on the back side.
Measures: 2.75 inch diameter x 0.6 inches high
Finish: silver stainless steel
Promotional Uses:
company gifts or giveaways
beauty salons/supplies
spas
health clubs
races/marathons
travel agencies
cruise lines
hotels & resorts
Decoration method: laser engraving
Imprint area: 2.5" x 2.5"
Please email the item # and artwork (.eps or .ai format) to: Support@StorusPromotions.com
| | | | | | | | | |
| --- | --- | --- | --- | --- | --- | --- | --- | --- |
| Item # | Description | Retail | 25 Units | 50 Units | 100 Units | 250 Units | 500 Units | 500+ Units |
| 09007-w | white | $9.99 | $9.89 | $9.79 | $9.69 | $9.59 | $9.49 | Contact |
| 09007-b | black | $9.99 | $9.89 | $9.79 | $9.69 | $9.59 | $9.49 | Contact |
| 09007-rb | blue | $9.99 | $9.89 | $9.79 | $9.69 | $9.59 | $9.49 | Contact |
| 09007-g | gunmetal gray | $9.99 | $9.89 | $9.79 | $9.69 | $9.59 | $9.49 | Contact |
| 09007-pch | peach | $9.99 | $9.89 | $9.79 | $9.69 | $9.59 | $9.49 | Contact |
| 09007-pk | pink | $9.99 | $9.89 | $9.79 | $9.69 | $9.59 | $9.49 | Contact |
| 09007-pp | purple | $9.99 | $9.89 | $9.79 | $9.69 | $9.59 | $9.49 | Contact |
(R)